Total solar eclipse of 06/20/2327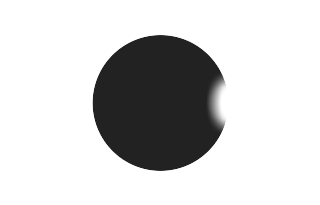 | | |
| --- | --- |
| Day of week: | Monday |
| Maximum duration of eclipse: | 06m21s |
| Maximum width of eclipse path: | 265 km |
| Saros cycle: | 142 |
| Coverage: | 100% |
| Magnitude: | 1.0795 |
| Gamma: | 0.2542 |
How will be the weather during the total solar eclipse on 06/20/2327?
Where is the best place to see the total solar eclipse of 06/20/2327?
The following maps show the average cloud coverage for the day of the total solar eclipse. With the help of these maps, it is possible to find the place along the eclipse path, which has the best chance of a cloudless sky. Nevertheless, you should consider local circumstances and inform about the weather of your chosen observation site.

The data is provided by NASAs satellites AQUA and TERRA. The cloud maps are averaged over a period of 19 years (2000 - 2019).
Detailed country maps
Cities inside the path of the eclipse
The following table shows all locations with a population of more than 5,000 inside the eclipse path. Cities which have more than 100,000 inhabitants are marked bold. A click at the locations opens a detailed map.
| | | | | | |
| --- | --- | --- | --- | --- | --- |
| City | Type | Eclipse duration | Local time of max. eclipse | Distance to central line | Ø Cloud coverage |
| West Bay, West Bay | total | - | 06:02:43 UTC-05:00 | 46 km | 72% |
| George Town, George Town | total | - | 06:02:39 UTC-05:00 | 36 km | 68% |
| Bodden Town, Bodden Town | total | - | 06:02:37 UTC-05:00 | 30 km | 67% |
| North Side, North Side | total | - | 06:02:39 UTC-05:00 | 35 km | 67% |
| East End, East End | total | - | 06:02:36 UTC-05:00 | 26 km | 64% |
| Little Cayman, Sister Island | total | - | 06:02:38 UTC-05:00 | 17 km | 66% |
| Camagüey, Camagüey | total | - | 06:03:32 UTC-05:00 | 92 km | 69% |
| Amancio, Las Tunas | total | - | 06:03:04 UTC-05:00 | 20 km | 62% |
| Guáimaro, Camagüey | total | - | 06:03:13 UTC-05:00 | 33 km | 66% |
| Jobabo, Las Tunas | total | - | 06:03:06 UTC-05:00 | 16 km | 57% |
| Nuevitas, Camagüey | total | - | 06:03:35 UTC-05:00 | 79 km | 53% |
| Manzanillo, Granma | total | - | 06:02:40 UTC-05:00 | 48 km | 51% |
| Las Tunas, Las Tunas | total | - | 06:03:07 UTC-05:00 | 6 km | 62% |
| Bartolomé Masó, Granma | total | - | 06:02:32 UTC-05:00 | 74 km | 61% |
| Bayamo, Granma | total | - | 06:02:39 UTC-05:00 | 67 km | 53% |
| Puerto Padre, Las Tunas | total | - | 06:03:15 UTC-05:00 | 14 km | 70% |
| Jiguaní, Granma | total | - | 06:02:37 UTC-05:00 | 77 km | 51% |
| Cacocum, Holguín | total | - | 06:02:53 UTC-05:00 | 45 km | 70% |
| Holguín, Holguín | total | - | 06:03:00 UTC-05:00 | 32 km | 65% |
| Contramaestre, Santiago de Cuba | total | - | 06:02:33 UTC-05:00 | 92 km | 55% |
| San Germán, Holguín | total | - | 06:02:46 UTC-05:00 | 67 km | 65% |
| Palma Soriano, Santiago de Cuba | total | - | 06:02:28 UTC-05:00 | 112 km | 54% |
| Duncan Town, Ragged Island | total | - | 06:03:57 UTC-05:00 | 74 km | 59% |
| Banes, Holguín | total | - | 06:03:00 UTC-05:00 | 49 km | 54% |
| Colonel Hill, Crooked Island and Long Cay | total | - | 06:04:21 UTC-05:00 | 62 km | 68% |
| Masons Bay, Acklins | total | - | 06:04:11 UTC-05:00 | 26 km | 57% |
| Abraham's Bay, Mayaguana | total | - | 06:04:03 UTC-05:00 | 33 km | 60% |
| Ponta Delgada, Azores | total | - | 11:04:57 UTC-01:00 | 71 km | 66% |
| Cacém, Lisbon | total | - | 12:39:14 UTC+00:00 | 43 km | 40% |
| Torres Vedras, Lisbon | total | - | 12:39:12 UTC+00:00 | 79 km | 47% |
| Caldas da Rainha, Leiria | total | - | 12:39:20 UTC+00:00 | 115 km | 50% |
| Lisbon, Lisbon | total | - | 12:39:36 UTC+00:00 | 40 km | 35% |
| Sesimbra, Setúbal | total | - | 12:39:46 UTC+00:00 | 10 km | 38% |
| Póvoa de Santa Iria, Lisbon | total | - | 12:39:41 UTC+00:00 | 56 km | 42% |
| Setúbal, Setúbal | total | - | 12:40:11 UTC+00:00 | 22 km | 39% |
| Monsanto, Santarém | total | - | 12:40:12 UTC+00:00 | 127 km | 38% |
| Santarém, Santarém | total | - | 12:40:21 UTC+00:00 | 102 km | 35% |
| Portimão, Faro | total | - | 12:41:30 UTC+00:00 | 126 km | 37% |
| Entroncamento, Santarém | total | - | 12:40:43 UTC+00:00 | 131 km | 38% |
| Albufeira, Faro | total | - | 12:42:09 UTC+00:00 | 128 km | 35% |
| Loulé, Faro | total | - | 12:42:39 UTC+00:00 | 119 km | 34% |
| Faro, Faro | total | - | 12:42:53 UTC+00:00 | 131 km | 38% |
| Évora, Évora | total | - | 12:42:16 UTC+00:00 | 39 km | 30% |
| Beja, Beja | total | - | 12:42:36 UTC+00:00 | 21 km | 30% |
| Badajoz, Extremadura | total | - | 13:44:05 UTC+01:00 | 87 km | 29% |
| Huelva, Andalusia | total | - | 13:44:57 UTC+01:00 | 89 km | 28% |
| Sevilla, Andalusia | total | - | 13:46:59 UTC+01:00 | 60 km | 23% |
| Córdoba, Andalusia | total | - | 13:49:14 UTC+01:00 | 17 km | 21% |
| Mijas, Andalusia | total | - | 13:50:21 UTC+01:00 | 121 km | 26% |
| Málaga, Andalusia | total | - | 13:50:45 UTC+01:00 | 103 km | 26% |
| Vélez-Málaga, Andalusia | total | - | 13:51:23 UTC+01:00 | 90 km | 24% |
| Jaén, Andalusia | total | - | 13:51:23 UTC+01:00 | 23 km | 18% |
| Granada, Andalusia | total | - | 13:52:10 UTC+01:00 | 36 km | 15% |
| El Ejido, Andalusia | total | - | 13:54:08 UTC+01:00 | 63 km | 25% |
| Roquetas de Mar, Andalusia | total | - | 13:54:34 UTC+01:00 | 60 km | 26% |
| Almería, Andalusia | total | - | 13:54:50 UTC+01:00 | 49 km | 27% |
| Lorca, Murcia | total | - | 13:55:46 UTC+01:00 | 58 km | 19% |
| Murcia, Murcia | total | - | 13:56:40 UTC+01:00 | 106 km | 20% |
| Cartagena, Murcia | total | - | 13:57:16 UTC+01:00 | 68 km | 25% |
| Orihuela, Valencia | total | - | 13:56:58 UTC+01:00 | 121 km | 21% |
| Torrevieja, Valencia | total | - | 13:57:34 UTC+01:00 | 116 km | 23% |
| Oran, Oran | total | - | 13:59:36 UTC+01:00 | 128 km | 14% |
| Mostaganem, Mostaganem | total | - | 14:00:55 UTC+01:00 | 83 km | 17% |
| Relizane, Relizane | total | - | 14:02:03 UTC+01:00 | 91 km | 14% |
| Tiaret, Tiaret | total | - | 14:03:58 UTC+01:00 | 109 km | 15% |
| Chlef, Chlef | total | - | 14:03:14 UTC+01:00 | 25 km | 15% |
| Médéa, Medea | total | - | 14:05:57 UTC+01:00 | 27 km | 20% |
| Blida, Blida | total | - | 14:05:54 UTC+01:00 | 50 km | 25% |
| Algiers, Algiers | total | - | 14:06:01 UTC+01:00 | 86 km | 27% |
| Djelfa, Djelfa | total | - | 14:08:37 UTC+01:00 | 125 km | 20% |
| Boumerdas, Boumerdes | total | - | 14:06:50 UTC+01:00 | 101 km | 29% |
| Tizi Ouzou, Tizi Ouzou | total | - | 14:07:59 UTC+01:00 | 113 km | 28% |
| Bordj Bou Arreridj, Bordj Bou Arréridj | total | - | 14:10:00 UTC+01:00 | 69 km | 23% |
| Sétif, Sétif | total | - | 14:11:06 UTC+01:00 | 102 km | 23% |
| El Eulma, Sétif | total | - | 14:11:39 UTC+01:00 | 107 km | 20% |
| Biskra, Biskra | total | - | 14:13:12 UTC+01:00 | 26 km | 9% |
| Batna, Batna | total | - | 14:13:13 UTC+01:00 | 62 km | 19% |
| Nefta, Tawzar | total | - | 14:18:19 UTC+01:00 | 51 km | 7% |
| Tébessa, Tébessa | total | - | 14:16:54 UTC+01:00 | 114 km | 22% |
| Tozeur, Tawzar | total | - | 14:18:43 UTC+01:00 | 37 km | 7% |
| Ar Rudayyif, Gafsa | total | - | 14:18:12 UTC+01:00 | 11 km | 7% |
| Metlaoui, Gafsa | total | - | 14:18:43 UTC+01:00 | 14 km | 7% |
| Gafsa, Gafsa | total | - | 14:19:15 UTC+01:00 | 38 km | 10% |
| Kasserine, Al Qaşrayn | total | - | 14:18:26 UTC+01:00 | 116 km | 22% |
| Kebili, Qibilī | total | - | 14:20:29 UTC+01:00 | 28 km | 8% |
| Douz, Qibilī | total | - | 14:20:52 UTC+01:00 | 50 km | 9% |
| Sidi Bouzid, Sīdī Bū Zayd | total | - | 14:19:43 UTC+01:00 | 127 km | 15% |
| El Hamma, Qābis | total | - | 14:21:41 UTC+01:00 | 23 km | 8% |
| Skhira, Şafāqis | total | - | 14:21:38 UTC+01:00 | 74 km | 25% |
| Gabès, Qābis | total | - | 14:22:13 UTC+01:00 | 33 km | 12% |
| Tataouine, Tataouine | total | - | 14:24:02 UTC+01:00 | 49 km | 6% |
| Medenine, Madanīn | total | - | 14:23:35 UTC+01:00 | 4 km | 6% |
| Midoun, Madanīn | total | - | 14:23:49 UTC+01:00 | 61 km | 24% |
| Zarzis, Madanīn | total | - | 14:24:24 UTC+01:00 | 35 km | 23% |
| Ben Gardane, Madanīn | total | - | 14:25:03 UTC+01:00 | 3 km | 7% |
| Zuwārah, An Nuqāţ al Khams | total | - | 15:26:45 UTC+02:00 | 17 km | 7% |
| Zintan, Jabal al Gharbi District | total | - | 15:28:21 UTC+02:00 | 76 km | 7% |
| Şabrātah, Az Zāwiyah | total | - | 15:27:35 UTC+02:00 | 20 km | 11% |
| Yafran, Jabal al Gharbi District | total | - | 15:28:37 UTC+02:00 | 51 km | 8% |
| Şurmān, Az Zāwiyah | total | - | 15:27:46 UTC+02:00 | 20 km | 12% |
| Az Zāwīyah, Az Zāwiyah | total | - | 15:28:01 UTC+02:00 | 26 km | 13% |
| Mizdah, Jabal al Gharbi District | total | - | 15:30:10 UTC+02:00 | 94 km | 10% |
| Gharyan, Jabal al Gharbi District | total | - | 15:29:16 UTC+02:00 | 20 km | 8% |
| Tripoli, Tripoli | total | - | 15:28:35 UTC+02:00 | 57 km | 15% |
| Tagiura, Tripoli | total | - | 15:28:50 UTC+02:00 | 65 km | 16% |
| Tarhuna, Al Marqab | total | - | 15:29:53 UTC+02:00 | 32 km | 10% |
| Bani Walid, Mişrātah | total | - | 15:31:21 UTC+02:00 | 21 km | 9% |
| Masallātah, Al Marqab | total | - | 15:30:12 UTC+02:00 | 66 km | 12% |
| Al Khums, Al Marqab | total | - | 15:30:34 UTC+02:00 | 80 km | 13% |
| Zliten, Mişrātah | total | - | 15:31:16 UTC+02:00 | 76 km | 14% |
| Mişrātah, Mişrātah | total | - | 15:32:11 UTC+02:00 | 89 km | 16% |
| Sirte, Surt | total | - | 15:35:58 UTC+02:00 | 41 km | 12% |
| Gebeit, Red Sea | total | - | 16:08:12 UTC+02:00 | 64 km | 3% |
| Port Sudan, Red Sea | total | - | 16:10:17 UTC+02:00 | 27 km | 23% |
| Sawākin, Red Sea | total | - | 16:10:55 UTC+02:00 | 71 km | 19% |
| Tokār, Red Sea | total | - | 16:11:50 UTC+02:00 | 115 km | 26% |
| Farasān, Jizan | total | - | 17:15:06 UTC+03:00 | 54 km | 44% |
| Ad Darb, Jizan | total | - | 17:14:07 UTC+03:00 | 53 km | 6% |
| Abha, 'Asir | total | - | 17:13:40 UTC+03:00 | 114 km | 31% |
| Jizan, Jizan | total | - | 17:15:02 UTC+03:00 | 13 km | 41% |
| Mislīyah, Jizan | total | - | 17:14:27 UTC+03:00 | 43 km | 13% |
| Şabyā, Jizan | total | - | 17:14:47 UTC+03:00 | 16 km | 17% |
| Mizhirah, Jizan | total | - | 17:15:08 UTC+03:00 | 10 km | 33% |
| Abū 'Arīsh, Jizan | total | - | 17:15:01 UTC+03:00 | 9 km | 17% |
| Al Jarādīyah, Jizan | total | - | 17:15:25 UTC+03:00 | 25 km | 12% |
| Şāmitah, Jizan | total | - | 17:15:25 UTC+03:00 | 21 km | 12% |
| Al Maḩwīt, Al Maḩwīt | total | - | 17:16:38 UTC+03:00 | 101 km | 25% |
| Ḩajjah, Ḩajjah | total | - | 17:16:26 UTC+03:00 | 76 km | 26% |
| Sa'dah, Şa'dah | total | - | 17:15:15 UTC+03:00 | 54 km | 27% |
| 'Amrān, Omran | total | - | 17:16:32 UTC+03:00 | 62 km | 28% |
| Sanaa, Sanaa | total | - | 17:16:52 UTC+03:00 | 78 km | 31% |
| Saḩar, Sanaa | total | - | 17:16:55 UTC+03:00 | 77 km | 36% |
| Sayyān, Sanaa | total | - | 17:17:03 UTC+03:00 | 90 km | 35% |
| Al Ḩazm, Al Jawf | total | - | 17:16:11 UTC+03:00 | 30 km | 16% |
| Ma'rib, Ma'rib | total | - | 17:16:56 UTC+03:00 | 11 km | 16% |
| Ataq, Shabwah | total | - | 17:17:57 UTC+03:00 | 26 km | 16% |
| Al Mukallā, Muḩāfaz̧at Ḩaḑramawt | total | - | 17:18:04 UTC+03:00 | 89 km | 77% |
| Bereeda, Bari | total | - | 17:20:15 UTC+03:00 | 82 km | 32% |